A Truly Memorable Experience Awaits You ...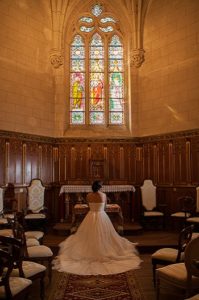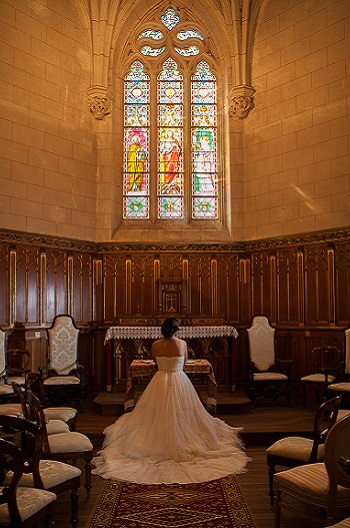 At Chateau Allure du Lac France, We have a chapel on the grounds and there is also an island on the lake that offers a beautiful tree canopy. These settings will make any wedding or vow renewal ceremony a memory you will cherish always. Our beautiful lakeside terrace is the perfect venue for a wedding reception allowing you and your guests to dance the night away under the stars.
We can help arrange all services needed for a wedding such as a hairdresser, photographer, catering, wedding planner, flowers, etc.
We are able to host events for any size group. We have experience with events ranging from small family get-togethers to larger groups with hundreds of guests. We specialize in customizing your stay to give you exactly what you want and make your visit a truly memorable experience, so please feel free to contact us so we may chat about your requirements.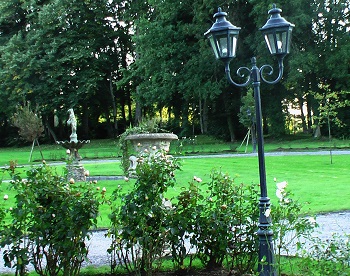 The property offers walks through the woods, around the gardens or a stroll around the 2.5 kilometer shoreline of the lake. The swimming pool and pool house offer a wonderfully relaxing experience. You may also enjoy boating and excellent carp fishing in our lake. There are also many activities to choose from in the area, including wine tasting, gourmet cooking classes, golf, tennis, horse riding, biking, hot air ballooning, water parks, museums, riverboat tours, shopping, sightseeing, etc.
Chateau Allure Du Lac is available as a location for Fashion shoots, commercials, television shows, and movies. Inquiries from production companies and location scouts are always welcome.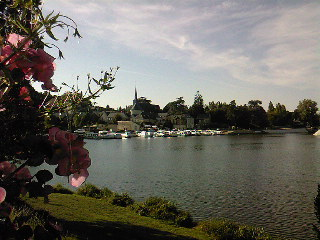 The Chateau is located near Grez-Neuville, voted the prettiest village in the Loire Valley, 20 minutes away from Angers, which is known for its shops and restaurants and 1 hour 25 minutes away from Paris via high speed train. There is another International airport in Nantes, which is about an hour away. Transportation can be arranged from the airport or the train station.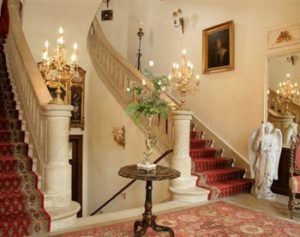 Warm and welcoming, Chateau Allure Du Lac has been renovated from top to bottom, and is furnished with sumptuous fabrics and gorgeous antiques. A dramatic carved stone double stairway in the entrance hall and sixteen and a half foot ceilings throughout the main floor adds a dramatic flair to the Chateau's atmosphere.
The drawing room features a huge log fireplace, oak paneling, and a private terrace with lighting perfect for early evening beverages and late night cocktails.
Perfect for gatherings both large and small, The impressively beautiful Grand Salon has a huge mirrored fireplace mantle, original oak linen paneling and parquet flooring.
There is a chapel on site with a beautiful stained glass window, gold trimmed oak paneling, and a stone rib vault ceiling. It is a place of reverence, perfect for prayer and solitude.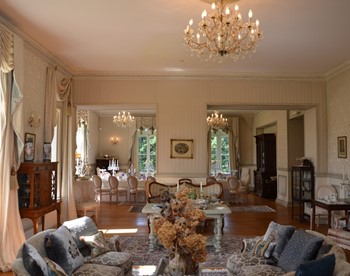 The sumptuous Silver Reception Room has an elevator for guests and also high-speed dumbwaiters that connect the Silver Reception Room's service kitchen to the main kitchen two floors below. This makes it wonderfully suited for hosting parties. In addition, the Chateau boasts many other paces to dine that range from elegant to cozy to anything in between including courtyard and lakeside terraces for outdoor dining.
The chateau can accommodate up to 28 guests in 14 en suite bedrooms that have a mix of queen and double beds. They are beautifully furnished and decorated in unique color schemes that range from rose to azure and are filled with crystal chandeliers, antiques, and comfortable beds that you may never want to get out of!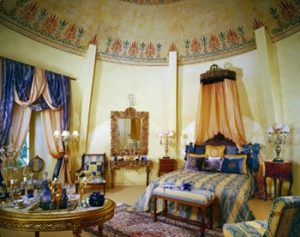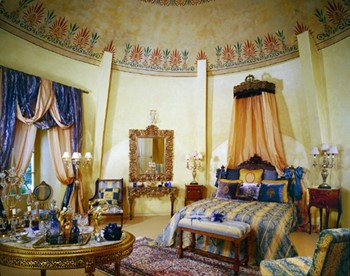 A fairy-tale experience is The Tower Suite bedroom-a master suite with two stories that has a drawing room, a foyer, and an antique staircase that leads up to a huge circular bedroom with an original hand painted domed ceiling.
If you are bringing children, Chateau Allure Du Lac has four bedrooms that can be made suitable for youngsters and we can also make the chateau "child-friendly" by removing easily breakable items.
In a separate building that is a three-minute walk through the gardens from the Chateau, we have two apartments with five more bedrooms. These are a very affordable way to accommodate more people on the estate, but they are not decorated to the same standards of the bedrooms in the Chateau. There are also many charming bed and breakfasts nearby that can accommodate many more guests. Click here for a full photo gallery of this amazing castle. See the five-star Chateau Allure du Lac reviews!